Call on our Trustworthy Professionals When You Need Speedy AC Repair in Torrance, CA
There are few things more irritating than bringing out the ice packs and desk fans because your air conditioner is damaged. It's especially bad close to when the heat is on the way. Rather than sit around while you wait for AC repair in Torrance, why not go with the most reliable name in town?
The AC experts at AZ Air Conditioning and Heating are famous for their thorough, speedy service. This applies to everything from window units to extensive commercial systems. No matter how complex the problem may be, we're committed to getting it right the first time. You are entitled to the very best in customer service, and we won't walk away from a job until you're 100% satisfied.
We offer emergency repairs, regular inspections and maintenance, and seamless installation of new systems. So whatever you need, there's a technician at AZ Air Conditioning and Heating ready to assist with the experience and tools to get it done quickly and safely. You'll keep nice and cool as those temperatures start to grow.
Contact us at 800-296-5088 to request your appointment today!
Many problems with air conditioners are best looked at by a insured technician. Thankfully that doesn't mean there aren't steps you can take without any help to keep your AC running smoothly.
A common problem with HVAC systems is weak cooling. Sometimes the airflow isn't making it all the way through your vents. In other cases, you can't get a room's temperature how you want it. Most of the time this happens because your air filter has become dirty or clogged. Be sure to replace it every few months. This will prevent dust and debris from reaching the rest of your HVAC system.
In other cases the treated air may simply be too weak to lower the temperature. It might be because the air conditioner itself isn't large enough for your home or office. Cutting costs during construction or renovations without adjusting the HVAC system is sometimes the root of this problem.
And there is always the chance the wiring has become damaged or disconnected from the system. Check your thermostat and breaker box first. If this doesn't resolve the problem, it may be time to call for a specialist.
Your senses can be a great help. Stains showing up near equipment or loud sounds coming from a vent could be the first sign something has happened. Getting ahead of it can spare you from a time-consuming, frustrating repair or replacement.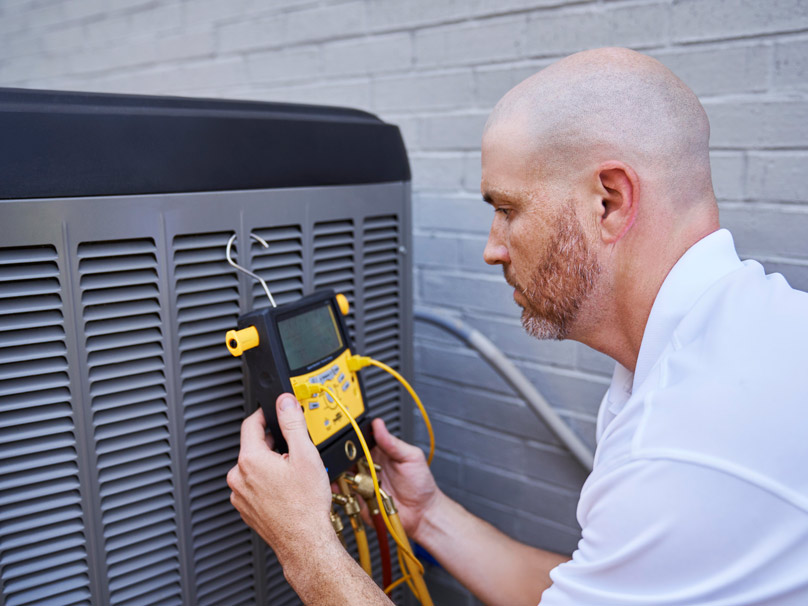 AC Service in Torrance and Surrounding Areas
For the very best AC service in Torrance, you can't go wrong with the seasoned veterans at AZ Air Conditioning and Heating. Maybe you've considered trying to fix what seems like a small problem with your air conditioning. But oftentimes these issues are related. What affects one part of the HVAC system may probably affect other parts. If you want total confidence a problem will be managed safely and professionally, a licensed technician is the best option. There are still a few easy tasks you can perform to reduce the risk of possible problems.
But we can handle those too. In fact, that's where our annual AC maintenance plans come in. Don't forget to ask one of our technicians for more information if you haven't heard of them yet. We'll share how they could boost your AC unit's energy efficiency and overall life span. We'll have the chance to inspect important parts and check for leaks or wear and tear. We'll also provide upkeep for moving parts. This consistently scheduled maintenance will reduce the risk of needing emergency assistance. That's good news since those can be expensive and annoying to deal with.
Many AC systems last from 10 to 15 years. Once they get older than that it's likely they will require more frequent repairs. This rapidly becomes more expensive than the cost of a new system. To prevent this, you should keep track of its age or the frequency of repairs. It will help you determine if it's time for you to replace your AC system. Our outstanding AC installation in Torrance gives us the opportunity to go over the different brands, prices and features we offer. You'll be able to select the option that's best for your home, your family and your financial well-being. We only offer durable, efficient AC systems that will serve you well for years to come.
To arrange for an appointment, call us today at 800-296-5088 or contact us online to get started.