Few plumbing jobs are larger in scale and more difficult to execute than repiping. The work requires knowledge of the layout of the plumbing inside a home, the equipment to access each of the pipes and remove them, and the technical skill to determine the correct kind of pipes to put in for the replacement. If a repiping project is handled poorly (which is what you can expect from amateurs), it will not only result in an inefficient and leaky plumbing system that will require numerous repairs for years to come, it will also cause damage to a home and leave a mess in its wake.
But repiping does not have to be a nightmare: whatever the size of the repiping job that your home requires, you can call up the professional plumbers at AZ Air Conditioning and Heating to handle it. We have more than 30 years of experience in Los Angeles, CA delivering quality plumbing work that has left our customers more than satisfied. When you call us for a repiping job, expect only the best from our friendly and talented plumbers.
Contact the experienced plumbers at AZ Air Conditioning and Heating whenever you need repiping services in Los Angeles, CA or the surrounding areas.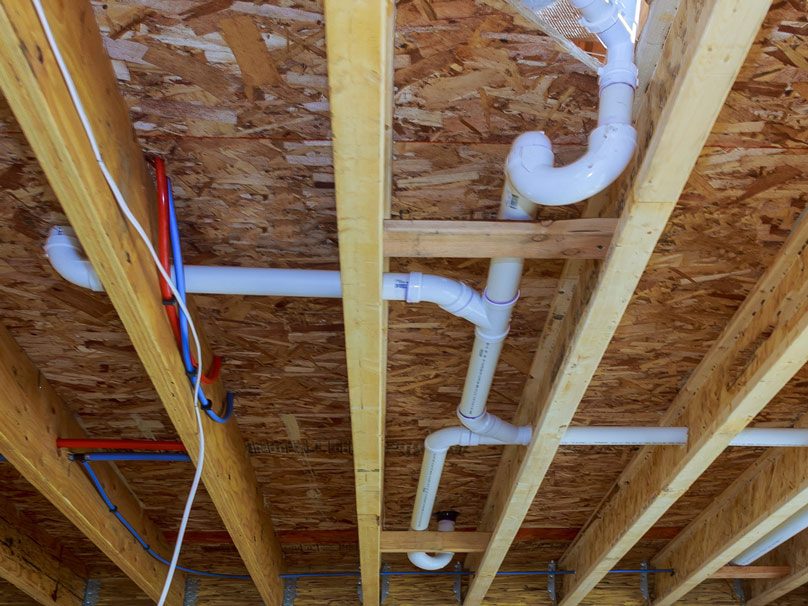 When Is Repiping Necessary?
There are a number of different situations where you should schedule repiping from a professional. If you live in a house that was built pre–1970 which has never received repiping services, then the plumbing is probably made of an older material such as galvanized steel. Steel is a tough metal, but it will eventually succumb to corrosion over time, something that will not occur with newer piping materials such as copper and PEX and CPVC. As the old pipes start to deteriorate, you will notice problems from leaks, clogs, and fresh water discoloration. But even if you have not detected such issues yet, you should still invest in repiping to replace the outdated material and head off future headaches.
Whole–house repiping is only one kind of repiping service, however. You might need to have a smaller section of your home repiped, such as when you are planning remodeling or a room expansion. When you begin to experience routine plumbing issues like those listed above in a newer home, contact experienced plumbers to determine the extent of the repiping needed to remedy them. You will probably not require whole–house repiping; the plumbers will see what areas in the home need targeting so they can do the quickest job with the least amount of disruption to your home and daily routines.
Look to Us for Professional Repiping Services in Los Angeles, CA
As we mentioned above, repiping is an extensive job, even when only a limited section of a home needs work. The combination of skills and tools required to do repiping correctly means that you must turn to professional plumbers who have years of experience to handle this work. It is critical that a plumbing project this important—one that will prevent numerous repairs and inconveniences in the future if it is done correctly—remains in the hands of the best plumbers you can locate.
Trust to AZ Air Conditioning and Heating for all your repiping needs in Los Angeles, CA. No matter if you require whole–house repiping or only work on a single room of the house, you can call on us with full confidence that you will receive highest quality work.