A plumbing system in a home should last for many years without many problems, provided that it received a professional installation in the first place. However, repair needs can crop up in even the finest residential plumbing system. Pipes can develop leaks due to corrosion, high water pressure, earthquake damage, and abrasions from constant expansion due to hot water. Heavy clogging from deposits often plagues waste water pipes. Should any pipes in your home sustain damage leading to leaks or clogging, reach out to professional plumbers right away to handle the necessary pipe repairs.
When you call AZ Air Conditioning and Heating for pipe repair service in Los Angeles, CA, you will receive the highest quality plumbers who will put the needs of your home first. We will use the best leak detection equipment and pipe sealing tools to see that the pipes in your home are in the best shape possible by the time we leave.
If you are in need of pipe repair in Los Angeles, CA, look no further than the skilled plumbers at AZ Air Conditioning and Heating. Call today to schedule service.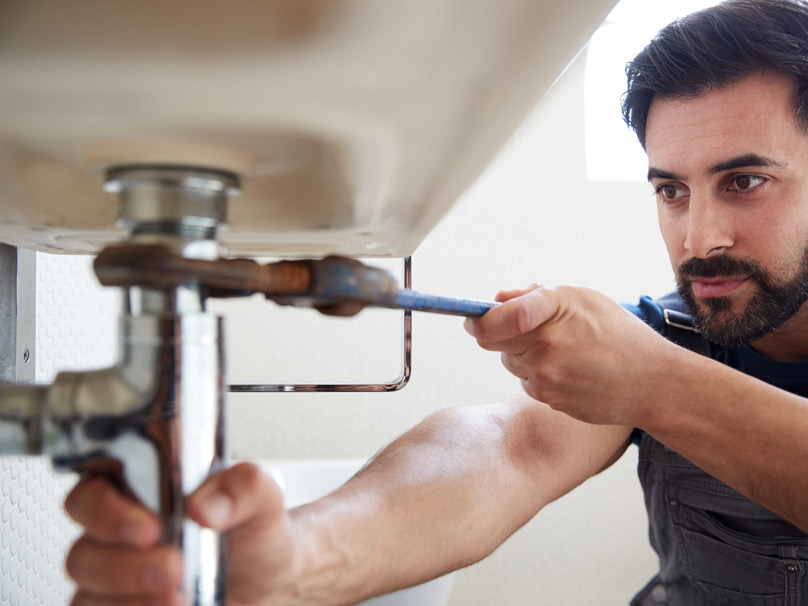 Signs You Have a Leaky Pipe
Because most of the pipes in your home are disguised behind floorboards and walls, it isn't always easy to tell when one of them starts to leak—until the leak becomes major. Here are some warning signs to watch for that will tell you early on when you need to arrange for professional pipe repairs:
High water bills: When monthly water bills seem inordinately high compared to your water use, it often means you have a leak occurring somewhere. Skilled plumbers will use special detection tools and their knowledge to locate it and repair the pipe.
Discoloration on walls: The gradual accumulation of water from a leaking pipe will start to damage drywall. This will first emerge as small spots of discoloration on the wall surface. Don't ignore these marks; call a plumber for pipe repair immediately.
Warped floorboards: Water leaking under the floor will cause wood to warp. If you notice bumps under the carpet, or doors that are having trouble closing because of a shift in the floor, you may have damaged and leaking pipes underneath.
You Need Professionals for Pipe Repairs
Although many homeowners like to think of themselves as amateur plumbing enthusiasts, you should never attempt to repair leaking and damaged pipes on your own—or allow non–professionals to take on the responsibility. For one, it is extremely difficult to locate the majority of pipe leaks unless you have years of experience and the right equipment. Even if you can see signs of a pipe leaking, you can cause extensive and unnecessary damage trying to reach it. And if you could reach the pipe, you would still risk creating further leaks with amateur repair attempts. Only professional plumbers know how to effectively and quickly locate and repair damaged pipes so they stay repaired.
AZ Air Conditioning and Heating has the plumbers who can handle any repairs you may require for your pipes in Los Angeles, CA. We are proud of the many years of service we have provided for residents of the area, and we're ready to deliver the plumbing work you need to keep the water flowing in your home. Call the expert plumbers at AZ Air Conditioning and Heating for pipe repair service in Los Angeles, CA and the surrounding area.