Get That Cold Air Working Again Fast with Our Professional AC Repair in Woodland Hills, CA
Putting up with a failing or malfunctioning HVAC system is never fun. It's worse when summer is around the corner. With blistering temperatures and no break in sight, taking steps ASAP makes all the difference. Fight back against stress and sweat by trusting AZ Air Conditioning and Heating, the strongest choice for AC repair in Woodland Hills. We'll work quickly to get your AC working again so you can go back to enjoying your summer.
Our expert, helpful techs are devoted to your satisfaction and comfort. We know how annoying it is to end up with poor service from other utility companies. We never give up on a job, and will stay until it's done correctly the first time.
Whatever you are looking for, AZ Air Conditioning and Heating can provide the very best customer assistance. We offer quick, emergency repairs and comprehensive inspections. We also offer the installation of new and efficient replacement models. Your HVAC system will be in the best health of its life. Staying cool this summer will be a breeze.
Contact us at 800-296-5088 to request your appointment today!
Many owners face some kind of failure with their HVAC system. Some are tiny and easily resolved. Others are unfortunately more difficult and are best left to one of our certified professionals. They have the tools and knowledge to service all makes and models. In the meantime there are many simple things you can perform on your own.
One common problem is hot air. There's not much point in using your air conditioner if the air is too hot to change the temperature. It might be because your refrigerant is running low, but the most common cause is a dirty air filter. An old, clogged filter can severely affect your system's efficiency, so make sure to change it every few months. This will prevent dust and debris from getting into other parts of your cooling equipment.
Sometimes there are hot and cold spots in your home. This is caused by a clog deeper in your air vents, and may require the tools and experience of a professional technician.
Other problems are electrical. You'll want to inspect your thermostat and breaker box first to see if you find signs of trouble. If you stumble on exposed or old wiring, be sure to exercise caution. And if checking these spots doesn't fix the problem, don't hesitate to call a licensed technician! We have years of experience safely finding and fixing all kinds of electrical failures.
Apart from these common errors, unusual stains or noises coming from your air conditioner are possible. Since your air conditioner is something you use for most of the year, anything out of the ordinary ought to stand out pretty fast.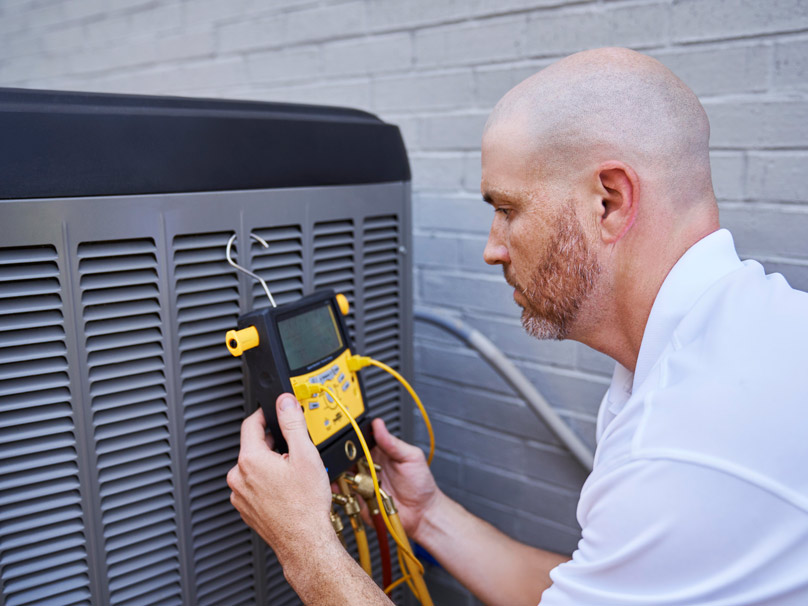 AC Service in Woodland Hills and Surrounding Areas
Are you searching for fast, consistent AC service in Woodland Hills? Why look any further than the cooling experts at AZ Air Conditioning and Heating?
It could make more financial sense to try HVAC maintenance on you own. But keep in mind there are lots of advantages to placing your faith in a licensed professional instead. We take every job with a system's long-term health in mind. We'll carefully figure out how to keep your HVAC system in peak shape for as long as we can. Think of it as an investment saving you time and money in the long run.
A popular option for our customers is an annual AC maintenance plan. These thorough plans were created with you in mind. They use routinely scheduled service calls giving us the chance to properly maintain your AC. All vital components will be reviewed. Moving parts will be lubricated or tightened if they need to. You'll soon learn these maintenance visits can increase your system's energy efficiency. It may also expand an air conditioner's total life span. With our assistance you'll be kept in better financial health than you thought possible!
There will come a time you'll have to start considering a replacement system. Most air conditioners survive around 10 to 15 years. You may notice it needs more frequent or pricey repairs. Don't wait too long or you'll pay more in constant upkeep than what a new air conditioner costs overall. That's where our high-quality AC installation in Woodland Hills comes in. We'll help you to determine what brand, model and extra features best meet your needs and budget. We're ready to take as long as you need to make an informed decision. When you do, you'll know you'll have a quality product.
Contact us online or give us a call at 800-296-5088 if you'd like to schedule an appointment today.